HAIR, NOT THE MUSICAL
This story begins with my heartbreak over
hair loss due to age and hypothyroidism. It
was suttle at first. My center part became a
wider and my scalp was dryer than usual.
I would have done something sooner if my
hairdresser had been honest with me. I was
her regular $60 per month customer and
she did not want me to stop. I did confront
her about this later and told her I would not
be back. She could have given me some
scalp treatment and kept me as a customer.
Her dishonesty cost her.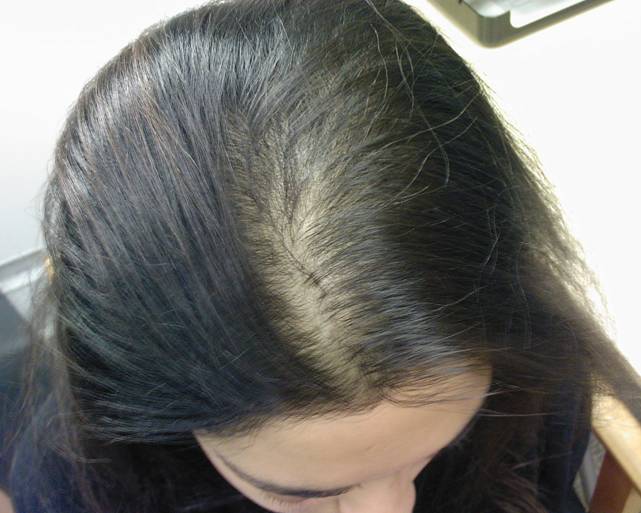 I have never been a vain person but I want to
look nice from head to toe. I prayed over my
situation and was able to accept my hair loss.
I stopped the pity party and looked for options.
I went to my local health & wellness store. A
sweet young lady told me about hair solution
hair products. I got the one that said it helps
make thin hair thicker. I have allergies and it
had a ton of herbs in it. I mixed it with a little
olive oil to avoid having an reaction to a herb.
It worked! My hair had thickened back up. It
was not as thick as it was, but it was thick
enough for my scalp not to show through. I
was satisfied with the results. I still have to
wash my hair often due to my very dry scalp.
I use shampoo and conditioner that don't
have sulfates and other bad chemicals.
COMPARE SULFATE AND SULFATE FREE
Smell: Both have strawberry scent
Shampoo: The sulfate free lather is a bit watery,
but my hair feels clean. Remember, hair can get
clean without a lot of lather!
Two of my closest girlfriends have different
forms of alopecia. One of them wears wigs
and the other one uses sewn in weave human
hair. They were supportive when I told them
about my hair issues. I didn't realize they had
spent a lot of money on dermatologist visit to
save their hair. They finally realized that this
was a fruitless pursuit and accepted the truth.
Their hair was not going to grow back.
I use wigs as my protective style during the
winter. I wear decorative headbands & scarves
during the summer months.
I have listed hair solutions for thinning hair. Maybe one of them will work for you.
**YOU SHOULD ALWAYS CHECK WITH YOUR DOCTOR BEFORE TRYING NEW PRODUCTS.
THIN HAIR SOLUTIONS:
HAIR SCALP ELIXIR (AVAILABLE ONLINE & WHOLE FOODS)
HAIR POWDERS AVAILABLE IN DIFFERENT HAIR COLORS ONLINE & QVC
HAIR, SKIN, NAILS & BIOTIN VITAMINS AVAILABLE @ YOUR DRUGSTORE
VOLUMIZING SHAMPOO & SERUM
OVER-THE-COUNTER HAIR TREATMENT FOR ALOPECIA (AVAILABLE @ DRUGSTORE)
HAIR RESTORATION THERAPY( HAIR TRANSPLANT)
LASER THERAPY AVAILABLE @ SOME HAIR SALONS
CLIP ON CONCEALER HAIR PIECE FOR TOP OF YOUR HEAD
CLIP ON HAIR EXTENSIONS AS FILL IN FOR THIN AREAS
HUMAN HAIR OR QUALITY SYNTHETIC HAIR WIGS (AVAILABLE ONLINE OR WIG SHOPS)
SEW IN HUMAN HAIR OR QUALITY HAIR EXTENSIONS (SEEK REFERRALS FOR BEST
HAIR STYLIST )
HAIR RESTORATION THERAPY( HAIR TRANSPLANT)
HAIRSTYLES FOR THIN HAIR( SEE GOOGLE & BING IMAGES )
HEADBANDS
USE PRETTY SCARVES FOR HEAD WRAPS

BANDANA HEAR WRAPS
WEBSITES WITH ARTICLES ON HAIR LOSS:
LIVING WELL NETWORK (TAGLINE : HAIR LOSS)
http://search.livewellnetwork.com/search/client?q=HAIR%20LOSS%20HAIR%20PIECE&st=lwhd&sortBy=relevance&start=30
OPRAH.COM
http://www.oprah.com/style/Female-Hair-Loss-Thinning-and-Alopecia
NATURAL/HERBAL REMEDIES
http://www.webmd.com/skin-problems-and-treatments/hair-loss/hair-loss-women-14/natural-treatments-for-hair-loss
http://www.natural-homeremedies.org/blog/herbal-remedies-for-thinning-hair/
http://www.natural-homeremedies.org/blog/six-excellent-herbal-remedies-for-alopecia/